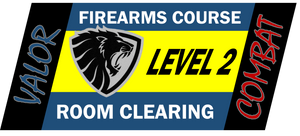 Room Clearing 2
Valor PDS
Regular price $55.00 Sale
Course: Room Clearing 2
Locations:
First Baptist Church
103 Cranberry Rd
Grove City, Pa 16127
(4 Hours, No Rounds Required)
Price: $55.00
This course will cover more advanced room clearing tactics and push your tactical knowledge even further. Participants will be trained on how to move through the room and deal with threats in the open as well as hidden threats. The fudimaental that were learned in Room Clearing 1 will continue to be reinforced while having addition concepts added.  
Required equipment:
Proper clothing
Belt 
Clean Soft Sole Athletic shoes 
Body Armor / Chest Rigs are optional
NO REFUNDS. IN THE EVENT THAT YOU CANNOT ATTEND A COURSE THAT YOU HAVE SIGNED UP FOR YOU MAY RESCHEDULE THE COURSE FOR A FUTURE DATE UP TO 1 YEAR FROM THE ORIGINAL DATE OF PURCHASE OR TRANSFER YOUR SPOT TO ANOTHER STUDENT.