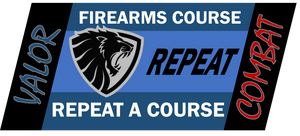 Repeat A Course
Valor PDS
Regular price $40.00 Sale
Part of our commitment to our students is continuous and affordable training opportunities. If you would like to repeat any of the courses that you have previously taken with the exception of our Vehicle Combat Course within one year, you may do so at a discounted rate.
Please select the course title and date that you would like to repeat in the drop-down menu above.
NO REFUNDS. IN THE EVENT THAT YOU CANNOT ATTEND A COURSE THAT YOU HAVE SIGNED UP FOR YOU MAY RESCHEDULE THECOURSE FOR A FUTURE DATE UP TO 1 YEAR FROM THE ORIGINAL DATE OF PURCHASE OR TRANSFER YOU SPOT TO ANOTHER STUDENT.