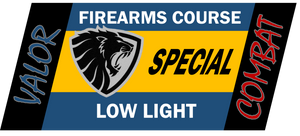 Low Light / Dim Light Combat Course
Valor PDS
Regular price $99.00 Sale
Course: Low Light / Dim Light Combat Course 
Location: Clinton-Irwin Rod & Gun Club 333 Jones Rd, Harrisville, PA 16038
(3.5 Hours, 300 Rounds ammo not included) 
During this course of training, students will continue to enhance and refine the skills and techniques learned in our previous pistol courses with the enhanced difficulty of low light training. Rapid lateral movement, linear movement, additional reload skills, as well as enhanced combatives will be among the skills learned during this course. Students will leave with an array of knowledge and greater confidence in their ability to handle a handgun.
Prerequisites:
Completion of the Pistol 1 Course
Completion of the Pistol 2 Course 
Completion of the Pistol 3 Course  
Required equipment:
A functioning handgun with a mounted flashlight.
250 rounds of ammunition.
A holster to be worn on a stiff belt with at least two magazine holders.

Cross draw or appendix carry holsters will not be permitted for use. Holsters will be worn on strong side hip.

3x Magazines with the ability to carry at least two on your person.
Eye and ear protection.
Proper clothing for the weather conditions 
Athletic shoes or boot 
 Firearms and Equipment can be rented and bullets purchased for all of our courses. Just add them to your shopping cart before checking out. 
NO REFUNDS. IN THE EVENT THAT YOU CANNOT ATTEND A COURSE THAT YOU HAVE SIGNED UP FOR YOU MAY RESCHEDULE THE COURSE FOR A FUTURE DATE UP TO 1 YEAR FROM THE ORIGINAL DATE OF PURCHASE OR TRANSFER YOUR SPOT TO ANOTHER STUDENT.