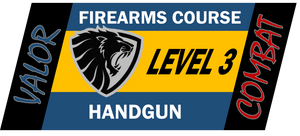 Level 3 Advanced Handgun
Valor PDS
Regular price $99.00 Sale
Course: Level 3 Advanced Handgun
Location: Clinton-Irwin Rod & Gun Club
(4 Hours, 300 Rounds) 
Developed and continually refined to offer as a capstone course for the highest, most accepted and cutting edge tactical handgun training available. During this course students will lock in the fundamentals taught in our previous courses and develop a level of tactical competency that can only be achieved through training. This Course puts the students previously attained skills to the test as well as introduces new concepts such as positional shooting, pivots, rapid linear movement, and shooting from cover.
Prerequisites:
Completion of the Level 1 Basic Handgun Training Course 
Completion of the Level 2 Intermediate Handgun Training Course 
Required equipment:
A functioning handgun.
300 rounds of ammunition.
A holster to be worn on a stiff belt with at least two magazine holders.

Cross draw holsters will not be permitted for use. Holsters will be worn on strong side hip or appendix.

3x Magazines with the ability to carry at least two on your person.
Eye and ear protection.
Proper clothing for the weather conditions 
Athletic shoes or boots 
Firearms and Equipment can be rented and bullets purchased for all of our courses. Just add them to your shopping cart before checking out. 
NO REFUNDS. IN THE EVENT THAT YOU CANNOT ATTEND A COURSE THAT YOU HAVE SIGNED UP FOR YOU MAY RESCHEDULE THE COURSE FOR A FUTURE DATE UP TO 1 YEAR FROM THE ORIGINAL DATE OF PURCHASE OR TRANSFER YOUR SPOT TO ANOTHER STUDENT.