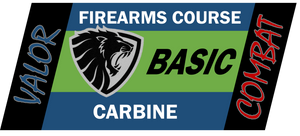 Level 1 Basic Carbine
Valor PDS
Regular price $99.00 Sale
Course: Level 1 Basic Carbine
Location:  Clinton-Irwin Rod & Gun Club 333 Jones Rd, Harrisville, PA 16038
(4 Hours, 400 Rounds ammo not included)
 This course focuses on the development of techniques and strategies covering a wide range of self-defense situations. Skills that will be taught include: Shooting Fundamentals, reloads, parallel movement, basic combatives and weapons retention.
Prerequisites: 
Required equipment:
A functioning

AR-15 / AK-47 or other similar weapons system (contact for questions). Holographic / Red Dot Sights are optional

3 Rifle Magazines with the ability to carry at least two on your person
Rifle Sling 
Eye and ear protection
Proper clothing for the weather conditions 
Athletic shoes or boots 
Body Armor / Chest Rigs are optional
 Firearms and Equipment can be rented and bullets purchased for all of our courses. Just add them to your shopping cart before checking out. 
NO REFUNDS. IN THE EVENT THAT YOU CANNOT ATTEND A COURSE THAT YOU HAVE SIGNED UP FOR YOU MAY RESCHEDULE THE COURSE FOR A FUTURE DATE UP TO 1 YEAR FROM THE ORIGINAL DATE OF PURCHASE OR TRANSFER YOUR SPOT TO ANOTHER STUDENT.